Nuisance
Sometimes I hate technology, or should I make that loathe technology, detest technology, have an abhorrance for technology. Ok those were the best words I could come up with in the thesaurus, I'm sure you get the picture. I just spent over an hour, doing what I hoped was a nice, lucid account of my past two weeks spent in Cape Town at parliament attending media briefing week and my impressions of where I think government is at in terms of all its promises and plans. However, the universe obviously didn't think much of my ramblings, because somewhere between that final full fullstop and the accomplished sensation of clicking the publish button, my post disappeared into....well...I'm still trying to figure that out. So to hell with politics for today, I'm going to go for the warm, fuzzy option instead and one of my favourite South African legends - Just Nuisance.

South Africa has the distinction of being the only country in the world, to my knowledge, that has ever had a dog, fully conscripted and holding rank in the military. To be more precise its a naval rank, and I give you none other than Able Seaman Just Nuisance.

Just Nuisance was a Great Dane, and he became a friend and mascot of sorts to the sailors serving at the naval base in Simonstown during the Second World War. Just Nuisance used to accompany the sailors by train to Cape Town when they went off drinking and carousing. Legend has it that on the return trip he would wake the inebriated sailors where they had passed out so that they didn't miss their stop, and escourt them back to their ship. He died in 1944, was given a full military burial, and his legend has become larger than life. Apparently the Great Dane was not averse to the odd pint himself. Because of his love for travelling on trains, angry conductors threatened to have the dog put down, his sailor friends came to his rescue and he was enlisted as a way of protection.

"On Friday, 25th August 1939, Just Nuisance was enlisted into the Royal Navy. He was given the Christian name of "Just", the Trade of "Bone Crusher" and his Religious Denomination as "Scrounger" (this was later upgraded to Canine Divinity League [Anti-Vivisection]). Like all new sailors, he underwent a medical examination which he duly passed and was declared fit for active duty. The proper enlistment forms were filled in and he signed them with a paw mark. Just Nuisance was now a bona-fide member of the Navy and, as such, he expected all the benefits that that brought - he started sleeping on sailors' beds - his long frame fully stretched out with his head comfortably placed on the pillow. One of the seaman was allocated to ensure that Just Nuisance was regularly washed and he often appeared at parades wearing his seaman's hat."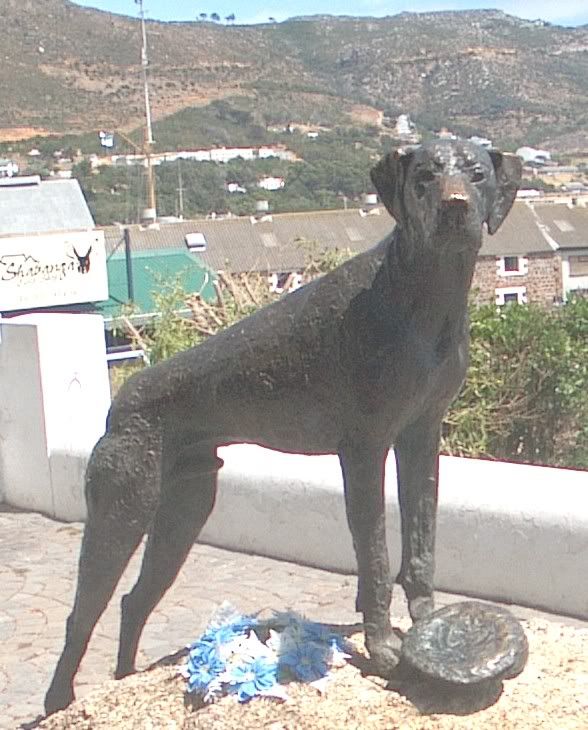 Just Nuisance Monument in Simonstown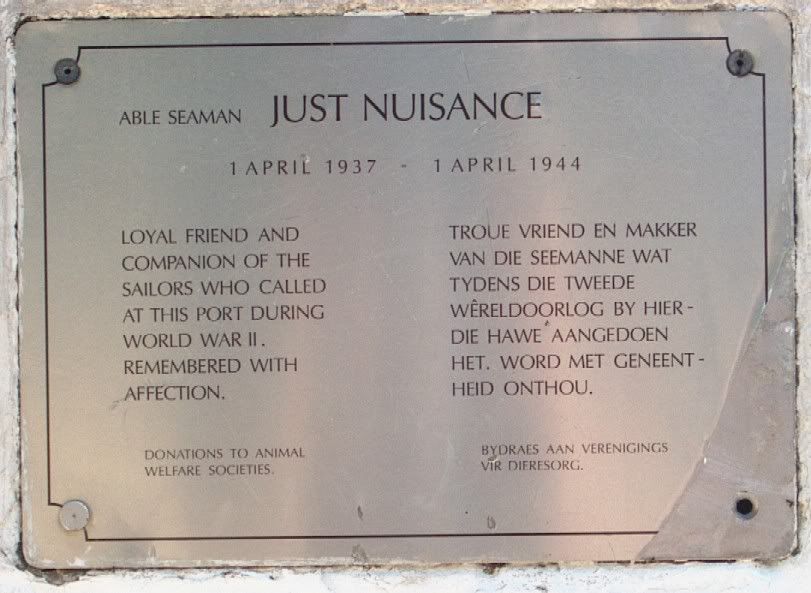 Plaque at the monument
By account, Just Nuisance was not the most well behaved sailor in town:


"All things considered, Just Nuisance was more than just a dog. He did much to boost the morale of all those involved in fighting the War from the South Atlantic Station and he was renowned for the love and care he showed for his sailor mates. However, Just Nuisance was no angel, as his "Conduct Sheet" shows. He was guilty of several misdeeds, such as travelling on the train without his free pass, sleeping on a bed in the Petty Officer's dormitory, going AWOL, losing his collar and resisting eviction from pubs at closing time. His most serious offence was fighting with the mascots of other Royal Navy vessels. He caused the death of the mascots on both the HMS Shropshire and the HMS Redoubt. His Conduct Sheet, now in the Simon's Town Museum, shows three recorded offences:
Traveling on the railways without a pass. Punishment Awarded: Confined to the banks of Froggy Pond, Lily Pool, with all lamp posts removed.
Did sleep in an improper place, namely in a bed in the Petty Officers' dormitory. Punishment Awarded: Deprived of bones for seven days.
Did resist ejection from the Sailors' & Soldiers' Home. No punishment awarded."
To read more click
here
or
here